Get those calendars ready…
---
UofT Black Cookout (Tri-Campus Summer Event)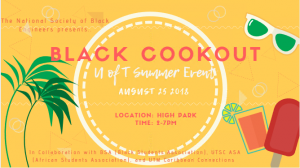 Summer event to connect black U of T students from all three campuses. Event organized in collaboration with the Black Students Association (BSA), African Students Association (ASA), and Caribbean Connections.
When: August 31 2019, 2-7 pm
Where: High Park Area $
---
Frosh D-Battle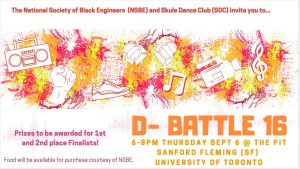 NSBE U of T, in partnership with Skule Dance, will  host D-Battle, a student dance battle showcasing UofT dance talent. The event will take place during Frosh Week.
When: September 5 2019, 6-8 pm
Where: The Pit (Sandford Flemming) 
---
NSBE SUDS
Come down to the first ever NSBE hosted SUDS. Suds is an engineering tradition that happens on the Friday of every week where engineers meet up to socialize, relax and take a break from the busy week. This Suds will feature Soca music, Afrobeats and many other cultured experiences including African snacks and a hip hop dance battle. Looking forward to seeing you here!
When: September 5 2019, 6-8 pm
Where: Basement 10 King's College Rd, Toronto, ON M5S 3G4
---
UTSU Clubs Carnival and Street Festival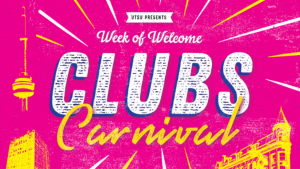 NSBE has taken part in the UTSU Clubs Fair for many years, with the event being hosted at King's College Circle. Find more information here.
When: September 5, 2019 | September 12, 2019
Where: Kings College Circle | St George Street
---
Engineering Society (EngSoc) Clubs Fair
Every year, the Engineering Society hosts their own Clubs Fair to showcase it's clubs catered towards engineering students. In the past, this event occurred at the same time and date as the UTSU clubs fair, and NSBE executives had to split up and work in shifts. This will also be a great opportunity to network and promote NSBE U of T.
When: September 5, 2019
Where: Bahen Center, 2nd & 3rd Floor
---